Concrete Cleaning
Concrete cleaning is a simple and inexpensive way to brighten the exterior of your home or business. We clean driveways, patios and sidewalks.

Frequently Asked Questions:

1. Why should I have my concrete cleaned?
---
Cleaning concrete extends the life and enhances the beauty of concrete.
It can be difficult to tell when concrete is in need of cleaning because the dirt and grime slowly builds up over time. However, the results of freshly cleaned concrete are very noticeable.
2.
How do you clean concrete?
---
To clean concrete, we use the leading surface cleaner of the industrial pressure washing industry. The surface cleaner is essentially a large brush head with multiple jets. Paired with our commercial-grade 4000 psi pressure washer, this surface cleaner is powerful, safe and efficient.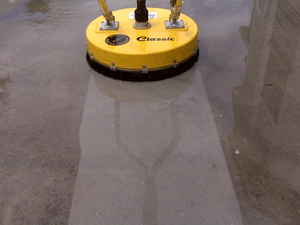 3.
Why should I choose Gibson's Cleaning Solutions? 
---
1.  We have many years of experience providing property maintenance services.
2.  We use the the industry's best equipment and cleaning products to deliver the very best results.
3.  All work is backed by our 100% Satisfaction Guarantee – If you don't like what you see, it's free!
4.  Besides all that, we are reliable, friendly, safety-conscious, courteous, customer-service oriented, fully-insured and eco-friendly!
4.
Who will be cleaning my concrete?
---
Please see the About Us Page 
5.
Is Gibson's Cleaning Solutions insured?
---
Absolutely! We carry two million dollars of liability insurance through State Farm. We also carry worker's compensation insurance and additional insurance on our work vehicle. We will gladly provide a certificate of our insurance upon request. In addition to being properly insured, we are very safety-conscious. We take great measures to protect both your property and the safety of our crew. 
6.
Do I need to be home?
---
It's up to you! However, for concrete cleaning it is not necessary that you be home. If you are scheduling other services to be completed at the same time, we may need access to the interior of your home.
7.
How soon can I get an appointment?
---
We generally schedule appointments about two weeks out. However, during the months of April, May, October and November, we can get very busy and at times it is three or four weeks before we have an opening. If you have a special event, please contact us right away and we will do our very best to accommodate you. Remember, appointments can be reserved up to one-year in advance.